NI farmers on alert as more cases of Schmallenberg virus reported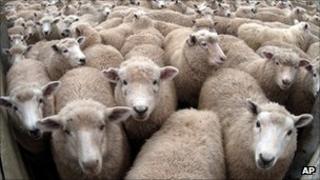 Northern Ireland farmers have been put on alert for a new disease that can ravage sheep flocks.
Schmallenberg virus first appeared on the continent but has now spread to farms in England.
There is no known cure or vaccine.
The disease, which is spread by biting midges, can affect ruminants of all ages, but sheep appear to be the most vulnerable species and newborn lambs where mortality is highest.
More than 70 flocks in the south and west of England have now reported cases of Schmallenberg disease.
Mortality rates of up to 20% have been recorded in newborn lamb crops.
The virus seems to attack the nervous system and as well as stillbirths, lambs can exhibit malformed legs and jaws.
It is a worrying development for local shepherds like Billy Martin who is now in the middle of lambing on his farm at Greyabbey on the Ards peninsula.
"The consequences could be absolutely devastating not only for the stock but also for the financial situation of the farmer," he said.
The Department of Agriculture has responded by increasing its surveillance programme.
"We encourage farmers to report any stillbirth, malformation or nervous disease in new-born animals or foetuses to their vet," said a department spokesman.
While farmers are being urged to be alert for signs of the disease, Agriculture Minister Michelle O'Neill has also called on livestock importers not to source animals from infected areas.
"The veterinary assessment is that the main threat is from animals from affected areas and the department would therefore encourage farmers to source stock responsibly," said the minister.
The impact of the disease on the UK sheep flock should become clear over the next two weeks as the lambing season reaches its peak.