Edwin Poots to launch 10-year tobacco strategy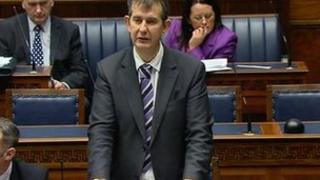 Health Minister Edwin Poots is launching a new 10-year tobacco strategy for Northern Ireland on Tuesday.
It is aimed at preventing people from starting to smoke, reducing the number of smokers and protecting people from passive smoking.
Mr Poots said the strategy would focus on young people and protecting those most at risk.
A ban on cigarette vending machines comes into force on 1 March.
"We want to drive down particularly the number of young people who are smoking," Mr Poots said.
"It is not a cool thing to do, it is not a clever thing to do.
"We want them not to take up smoking in the first instance.
"Around 14% of minors actually use vending machines to purchase cigarettes.
"It will be illegal to have them from Wednesday and that is a good thing particularly for children, because most people that smoke actually started when they were young."
Mr Poots said the three key pillars to the strategy would be prevention, cessation and protection.
He said there would be a reduction in large hoardings advertising cigarettes in supermarkets this year, with the same policy affecting smaller shops in 2015.
There will also be a consultation on the issue of people smoking in cars while they are travelling with children.
The health minister added that the strategy would also be targeting pregnant women, young people and those in areas of deprivation.