Maze site could be Troubles 'storytelling archive'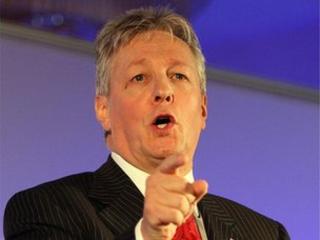 A new conflict transformation centre on the site of the former Maze jail could provide a space for people to share stories about their contrasting experiences during the Troubles.
Peter Robinson suggested the idea after discussing the past with the Secretary of State Owen Paterson.
Mr Robinson repeated his opposition to an amnesty or truth commission.
He insisted that the possibility of people being prosecuted for historic crimes could not be ruled out.
"Whatever we might do in relation to the past cannot take away people's right to expect there to be justice, obviously evidence is the key factor when we are dealing with those matters," he said.
"I'm pretty clear that there is a consensus that believes there should be a storytelling archive and we've talked about that at the new centre that we're building at the Maze-Long Kesh site."
Monday's meeting with the DUP leader was one of a series of talks on dealing with the past Owen Paterson has been holding with parties.
Traditional Unionist Voice leader Jim Allister met Mr Paterson earlier.
"From what he told us his mind is set against an amnesty, which is good - that would be a total travesty," Mr Allister said.
"He indicates he's set against any miscalled truth commission - that's good because it will only be abused and misused by those incapable of telling the truth who would want to use it to rewrite history and they of course the victim-makers.
"But in terms of justice for innocent victims I must say I don't see us much closer to that and I made the point very strongly to him that is because there's a vested interest in the political establishment in this building in maintaining the status quo."
Sinn Fein has said it is in favour of a truth recovery process.
The party's Mitchell McLaughlin said: "I think we really have to approach this on the basis of all the participants being prepared to participate in a truth recovery process.
"For some I know that will be insufficient but there's no question of anyone feeling they've had justice unless they've got the truth."
'Truth and justice'
Earlier this month, Police Ombudsman Al Hutchinson said amnesties should be considered to deal with the past.
"We've had amnesty by many other names, when you look at the two-year release in the peace agreement, you look at the inquiries that are ongoing," he said.
"The amnesty issue is as much a moral issue - truth and justice - as it is pragmatic.
"I take the pragmatic approach; it simply would be impossible probably to investigate to a criminal standard all murders."