Assembly praise for Terry George's Oscar triumph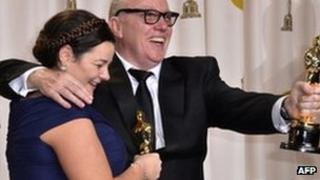 Terry George's Oscar win has been discussed by MLAs during a "matter of the day" session at the Northern Ireland Assembly.
The Belfast director's film, The Shore, won an award at Sunday night's ceremony, in the live action short category.
It was filmed at Mr George's family cottage at Coney Island near Ardglass.
It stars major Northern Ireland actors, including Ciaran Hinds, Maggie Cronin and Conleth Hill.
Mr George was twice previously nominated for his screenplays for Hotel Rwanda and In the Name of the Father.
The UUP's Robin Swann, who tabled the matter, passed on his congratulations and said the creative industries in Northern Ireland needed to be adequately supported.
Culture committee chair Michelle McIlveen said it was "a proud day for all of us in Northern Ireland".
Her comments were reiterated by the Alliance Party's Trevor Lunn who referred to the film as "a terrific piece of work".
Northern Ireland Culture Minister Carál Ní Chuilín also joined the tributes.
Elsewhere, the Northern Ireland First Minister Peter Robinson and deputy First Minister Martin McGuinness described the Oscar success as a "brilliant achievement" which showcased the country's position "as a premier location for film and TV production".
"It is a vote of confidence and global recognition for our ongoing commitment to the film industry," they said.
"The cinematography captures the beauty of our coastline and gives cinema-goers the world over the opportunity to view our beautiful landscapes."
Irish Minister for Arts, Heritage and the Gaeltacht, Jimmy Deenihan, has also passed on his congratulations.
"This short film which received part funding from Tourism Ireland maintains focus on the island of Ireland as a place to create film success," he said.
"I am especially delighted for the stars of the film who herald from Northern Ireland and also for Terry George, a native of Belfast."