Man arrested over Ian Paisley 'confidentiality breach'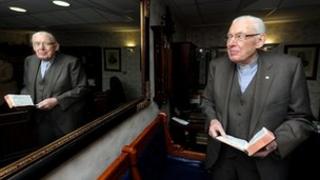 A 41-year-old man has been arrested over an alleged breach of patient confidentiality concerning the former DUP leader Ian Paisley who is in hospital.
The man is being questioned about an allegation of misconduct in a public office.
Mr Paisley is being treated for heart problems at the Ulster Hospital in Dundonald.
Last week, his son said he was making "steady progress".
North Antrim MP Ian Paisley Junior, said his father had "demonstrated that there is life in the old dog yet".
The former DUP leader was admitted to hospital on 5 February and his family requested privacy during what they described as a "difficult time".
Lord Bannside, who is 85, stood down as first minister in 2008 and ended 60 years of full-time ministry in January.