Body recovered in Lagan search for Joby Murphy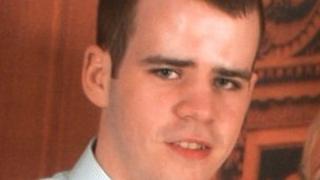 The family of a young man who went missing after a night out in Belfast say they are relieved his body has finally been found.
Joby Murphy, 20, went missing after being at a concert at the Odyssey in January.
Although the family are still waiting for formal identification, his father, Joe, said they were very relieved and "totally elated".
"I still can't take it in. It's absolutely fantastic.
"It's the first time I've smiled in four weeks," he added.
Joby's older brother, Martin, said: "We've got him home now. I can't describe the feeling."
Joby had been at a Snow Patrol concert in the Odyssey on 25 January.
It is thought he later walked across the bridge at the Lagan Weir and fell in.
A search team from Cork helped to locate his body on Saturday morning.
A candlelight vigil was recently held at the spot where he was last seen.