Ex-priest Daniel Curran admits to abuse charges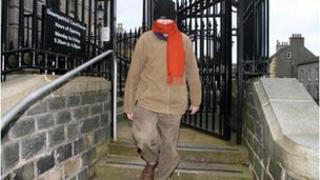 A court has heard that a former priest and convicted paedophile was so drunk he could not remember abusing two young boys.
It is the fourth time Daniel Curran, 61, of Bryansford Road, Newcastle, has been charged with child abuse.
He has pleaded guilty to five charges of indecent assault against two young boys dating back to 1986.
Downpatrick Crown Court heard that the offences took place at Curran's family holiday home near Tyrella in County Down.
He had been serving at the time as a priest in west Belfast and had gained the trust of parents when he took their children away overnight.
The prosecution said the boys saw it as an opportunity to get away from the Troubles in Belfast.
In 1995, Curran was given a seven-year sentence for similiar offences involving nine other children.
The judge asked why he had not volunteered the names of his other victims when first arrested.
The defence barrister said that his client had been sent by the church to England on a course to deal with his alcoholism and attitudes to sexual matters.
Part of this course encouraged him not to name his other victims to protect their privacy
A defence barrister told the court that at the time of the offences Curran was an alcoholic and completely out of control.
He said he now lives with and cares for his 91-year-old mother.
A medical report, he said, indicated that any custodial sentence her son got would have an adverse effect on her health.
Curran will be sentenced next week.