Union threatens strike after pay frozen for third year in a row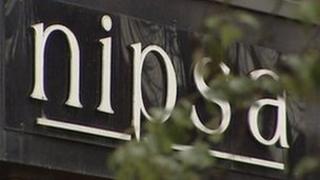 Northern Ireland trade union NIPSA has threatened strike action after council workers were told their pay would be frozen for a third consecutive year.
The Local Government Association confirmed a pay freeze for 1.6m local government employees, including those in England and Wales for 2012/13.
The LGA said councils were left with little choice due to rising costs and shrinking local government funding.
About 40,000 people in Northern Ireland will be affected.
These include staff working in councils, the Housing Executive, non-teaching staff in education and library boards, and the library service.
LGA spokeswoman Sarah Messenger said it had been "a very difficult decision to make but it is the right one for council taxpayers and the workforce as a whole".
"Increasing pay would mean more job losses and cuts to the services people need," she said.
"While the financial outlook for councils is bleak, we are keen to begin discussions with the unions on a package of reform of pay and conditions that may enable us to avoid a fourth year of pay freeze in 2013."
The continued pay freeze will affect more than 15,000 NIPSA members.
NIPSA general secretary Brian Campfield said the decision was not a freeze but a pay cut in real terms.
"Workers on NJC (National Joint Council) pay are the lowest paid of all public sector workers, many earning just a few pence more than the national minimum wage," he said.
"NIPSA will be consulting with other trade unions with a view to balloting members for industrial action to obtain a 'Yes' vote for industrial action, unless the employers come to their senses and engage in proper negotiations."