UTV chairman John B McGuckian resigns as director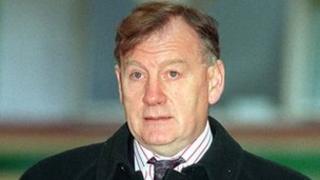 The chairman of UTV has resigned as a director after other board members said his independence had been compromised.
John B McGuckian has been on the board of the company since 1970. It is one of only three stock market listed companies in Northern Ireland.
He is also a non-executive director of a Dublin investment firm TVC Holdings.
TVC is a major shareholder in UTV and for that reason the majority of the board felt that Mr McGuckian could no longer serve as chairman.
In a statement the company said: "A majority of the members of the Board... considered that Mr McGuckian's close association with TVC, a major shareholder of UTV, had compromised his independence to such an extent that they no longer considered it appropriate for him to continue as chairman."
The firm added that a search would now begin for a new chairman as well as at least two independent non-executive directors "in order to ensure that in the future the company's affairs can be conducted in accordance with the UK Corporate Governance Code and best practice for corporate governance".
Two other UTV directors have also resigned: Shane Reihill who is the executive chairman of TVC and Kevin Lagan, the owner of one of Northern Ireland's biggest construction firms.
The company said that Helen Kirkpatrick, an existing independent non-executive director, has agreed to become interim chairman.
A statement from TVC Holdings said: "The actions taken by the executive directors and a minority of non-executive directors to have the chairman removed from his position without following due process were contrary to the UK corporate governance code.
"For that reason, Shane Reihill considered that he had no choice but to resign from the board of UTV."
Mr McGuckian is one of Northern Ireland's most successful businessmen with interests in textiles, shipping and property.
He is a former director of Allied Irish Bank and also served as chairman of the Industrial Development Board for Northern Ireland, but he is probably best know for his long association with UTV.
UTV is the ITV franchise holder in Northern Ireland and also has a large radio business. It is valued at almost £130m.