Belfast students get St Patrick's expulsion warning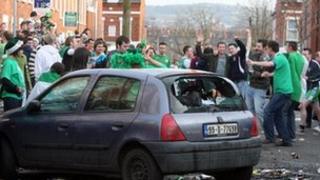 The University of Ulster has warned students who get involved in trouble on St Patrick's Day they will be expelled.
The university has recorded a video message which will be sent to all students ahead of St Patrick's Day.
Rioting and drunken street parties have marred the occasion in south Belfast's Holyand area in the past.
Meanwhile, Queen's University is giving students a long St Patrick's weekend in the hope that some of them will go to their homes outside of Belfast.
Queen's is having a reading day on Friday 16 March and will remain closed on the following Monday.
In the University of Ulster video message, Vice Chancellor Professor Richard Barnett tells students: "In recent years we have to accept that a small minority of our students have let down the university, have let down themselves and let down their families through their anti-social behaviour on St Patrick's Day.
"I have to say enough is enough. We will not tolerate any more of this anti-social behaviour.
"If any of you are involved in anti-social behaviour this year I will ensure that the university's disciplinary procedures are brought in swiftly and severely.
"So let it be clear - within one week of St Patrick's Day you could be expelled from this university."
He urges students not to gamble with their futures.
"Do not let down your families. How will you explain to your family if one week from St Patrick's Day your future is gone, you are no longer a student at this university," he says.
'Ghastly for residents'
The video also features a resident of the Holyland area, Liam Kielty.
"Students should go home," he says. "Because I think if their parents lived here or their grandparents lived here they wouldn't be very happy with what would be happening outside their parents or grandparents' house."
Another resident, Rowan Davidson, who has lived in the Holyland for nearly 30 years, told Radio Ulster the problem of anti-social behaviour by students and other young people in the area was not confined to St Patrick's Day.
"This goes on at a level that makes it ghastly for residents eight months of the year," he said.
In a statement, Queen's University said: "Following requests by local residents' groups, the PSNI and Belfast City Council, Queen's University has made Friday 16 March a reading day and is actively encouraging its students to go home for the weekend.
"In advance of the day the Queen's Community Affairs Officer will visit all student houses within the Holyland to advise Queen's students of their civic responsibilities.
"Any Queen's student who is reported for anti-social behaviour will be dealt with under the University's disciplinary process.
"The president of Queen's Students' Union is also writing to all students to advise them of their conduct."
Queen's pro-vice-chancellor Professor Tony Gallagher said he had gone to the Holyland area on St Patrick's Day last year.
He said it was "a dreadful event.. seeing so many young people so drunk all day long".
"The key is to try to break the cycle of these dreadful events," he said.
However, he added that many of those who had been involved in disturbances in the past were not students and that other young people, including some still at school, came to the area on St Patrick's Day.