Michael Wardlow appointed as chief equality commissioner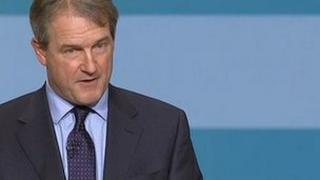 Michael Wardlow has been appointed as the new chief commissioner of the Northern Ireland Equality Commission.
Until August 2009, Mr Wardlow was chief executive officer of the Northern Ireland council for integrated education. He currently works as a freelance consultant.
Secretary of State Owen Paterson said Mr Wardlow would "bring with him skills, understanding and knowledge".
He will replace Bob Collins when he takes up his postion on 1 March.
Mr Paterson thanked Mr Collins for the work completed under his leadership.
"I am extremely grateful to him for the effectiveness and commitment he has shown during his appointment," he said.
Evelyn Collins, the commission's chief executive, said she was looking forward to working with Mr Wardlow.
"We have achieved much under the leadership of the outgoing chief commissioner, Bob Collins, and his predecessor Dame Joan Harbison and we are looking forward to working with our new chief commissioner as we continue to promote equality for everyone in Northern Ireland," she said.
The Equality Commission was created as part of the Belfast Agreement.
It aims to protect and promote equality. The secretary of state makes appointments to the commission, but it is funded by the Office of the First Minister and Deputy First Minister.