Teachers' redundancy deal criticised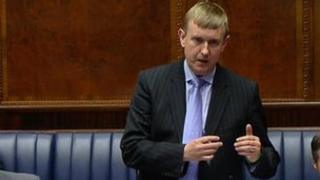 A redundancy deal for teachers has been criticised at a meeting of the assembly education committee.
Committee chairperson Mervyn Storey of the DUP said redundancy payments had originally been set at up to 60 weeks.
Negotiations between the education minister, John O'Dowd, and the unions led to an increase to up to 90 weeks.
The education department's Laverne Montgomery said 60 weeks would approximate to £45,000 per teacher and 90 weeks could mean around £60,000.
The figures emerged during a departmental briefing on pre-budget planning.
Another senior official, John McGrath, welcomed the additional £120m in funding for education agreed with the finance minister, but emphasised that this would only help to address the financial difficulties facing schools rather than eradicating those problems entirely.
Even with the extra funding there was an effective cut of 10% in cash for schools.
There was also criticism of the executive's programme for expanding nursery education.
Mervyn Storey said the the whole pre-school programme appeared to be about getting children into places, and questioned the quality of the education being provided.
Mr Storey said a number of problems had been identified with pre-school provision, including high staff turnover, low minimum staff qualifications and a lack of opportunities for training.
Mr McGrath agreed that there was "no point in providing places if there is no added value for the children involved".
He defended the role of the education inspectorate in examining standards in pre-school settings.
His departmental colleague, Linda Wilson said, "We have concentrated on improving standards in the private, voluntary, community sector."
Miss Wilson said there were some indications that nursery units in primary schools were not showing the same consistent level of quality.