Irish President Michael D Higgins visits London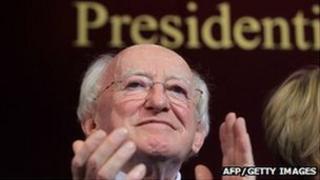 Irish President Michael D Higgins has paid tribute to the Irish community in Britain, during a visit to London.
Mr Higgins is making his first visit to the city since taking office.
It is not a state visit and the president will not be meeting any members of the Royal Family.
Speaking at the London Irish Centre in Camden in the north of the city, he said the Irish abroad would always be in the forefront of his thoughts as he faces into his presidency.
The president met members of the Irish community and those who work with Irish emigrant welfare organisations.
He said members of the Irish community in Britain had played an important role in improving relations between Ireland and the United Kingdom, ultimately making Queen Elizabeth's visit last year possible.
On Tuesday night the president will make a speech at the London School of Economics.
Mr Higgins was the only presidential candidate to visit Britain during his election campaign.
Since his inauguration, he has appointed an Irish woman living in Britain to the Council of State as an advisor on emigrant affairs.
On Wednesday, Mr Higgins will be shown around the Olympic stadium by Lord Coe, the London 2012 chairman.
A great lover of the arts, the president will also be attending a production of Juno and the Paycock at the Lyttelton Theatre.
In the wake of the Queen's historic visit to Dublin last year, an official return visit is expected. However, the usual protocol is that an invitation is not issued immediately.
Instead, a period of up to three years could pass before Mr Higgins is invited to take part in a UK state visit.
He returns to Ireland on Thursday.