Health minister urged to change organ donor scheme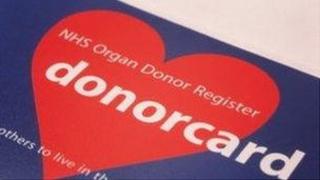 The Northern Ireland Assembly has urged the health minister to consult on an organ donation scheme where everyone is included, unless they opt out.
Between April 2010 and last April, 17 people died in Northern Ireland waiting for a transplant.
On Tuesday, it emerged that 184 kidneys were offered to NI patients in 2010 and 2011, but had not been used.
An MLA told Stormont that if it had not been for a kidney transplant she would have lost her teenage son.
The current system means organs can only be donated if a person has indicated their desire to be a donor.
Responding to a DUP motion calling for a review of the system, Health Minister Edwin Poots said 20 donations had been refused due to operating space, or a lack of surgeons available.
He said that although "this may seem like an alarming figure" there were "good reasons" for refusal.
Mr Poots said more than 100 had "valid suitability reasons", there were 10 cases where the recipient was not ready and 47 were organ-related, meaning there was damage, unusual or difficult anatomy.
The Ulster Unionist MLA, Joanne Dobson, told the chamber that if it had not been for a kidney transplant operation she would have lost her teenage son, Mark.
He was diagnosed with kidney failure when he was just 13.
"Mark is one of the lucky ones," she said.
"He waited for 10 months for an accessible organ donor and in February 2009 he underwent a five-and-a-half hour operation at the Royal Belfast Hospital for Sick Children.
"We do not know who the donor of Mark's kidney was. But even so we thank their family every single day for giving Mark the gift of life."
The motion's proposer, Jim Wells, said very few people had a moral issue with being a donor but "just haven't signed up".
His party colleagues, Gordon Dunne and Alastair Ross, said a review would look into an opt-out system, something they expressed concerns with.
Mr Ross said: "It raises serious questions about the power and the hold of the state over the individual".
Mr Dunne said "donation should be a gift and not a duty" and asked for a televised campaign to increase social acceptance.
Health committee chair Sue Ramsey said there was a need to look at education and encouraging people to sign up.
Mr Poots called for a public debate on how the current system might be improved, but stopped short of any definite announcement of a formal review.