Marine Bill comes before assembly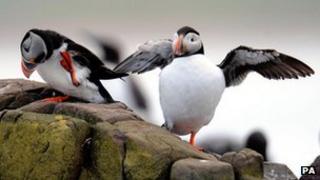 Environment Minister Alex Attwood will bring the first stage of the Marine Bill to the assembly later.
If passed, the bill will contain provisions for marine planning and nature conservation within Northern Ireland's territorial waters.
The Northern Ireland Marine Taskforce (NIMTF) has welcomed the bill.
"Our local seas are home to an extraordinary range of life. The bill needs to be watertight," said Richard Devlin.
"Puffins, seals, fish, sharks, local coral, unique sponges and algae are just some of the marine life that a Northern Ireland Marine Act can secure a future for."
However, the NIMTF has raised concerns over how government departments manage the seas.
"Currently, we have 11 different government agencies taking responsibility for our local seas. It is a failed model," said Mr Devlin.
"One need only look at Strangford Lough to see how our current way of managing our seas is not working.
"A single organisation - a Northern Ireland Marine Management Organisation - would provide a cost-effective and streamlined solution.
"In the interim, we will be calling upon the key Departments- DoE, DARD and DETI in particular, to finally work together to meet the challenge."