Northern Ireland Assembly rejects welfare reform motion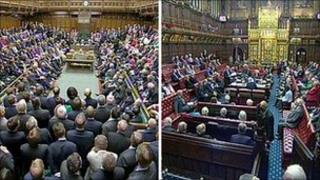 SDLP leader Alasdair McDonnell has accused unionist and Alliance MLAs of what he called "sleep walking behind the Tory government".
He was speaking after the assembly rejected an SDLP motion on welfare reform.
The motion had called on the executive to make opposition to welfare reforms its highest priority.
The motion was defeated by 44 votes to 38.
The motion had called on executive ministers to immediately pursue robust negotiations with the coalition government to pursue all possible legal and operational flexibilities and financial support.
It said this was needed to mitigate the impact of the welfare cuts and changes imposed on Northern Ireland.
Last week, the government lost another vote in the House of Lords over its plans to reform the welfare system.
Peers backed by 10 votes an amendment to the Welfare Reform Bill, overturning a move to cut payments to specific council tenants with one spare bedroom.
Ministers have already had to reverse several defeats over their proposals, which include capping benefits at £26,000 a year per household.