Pseudomonas investigation team invites bereaved families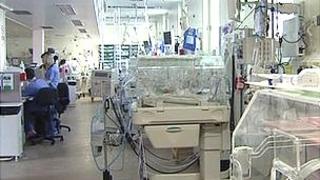 Experts examining Pseudomonas outbreaks which led to the deaths of four babies in Northern Ireland hospitals have invited bereaved families to meet them.
In December, a baby died from a Pseudomonas infection at Altnagelvin Hospital in Londonderry.
In January, three more died from a different strain at the Royal Jubilee Maternity in Belfast.
A review panel from the Regulation and Quality Improvement Authority (RQIA) has pledged a full investigation.
The team includes specialists with expertise in neo-natal care, microbiology and medical engineering, as well as a number of lay reviewers from charities.
The panel is chaired by Professor Pat Troop, a former chief executive of the Health Protection Agency.
"On behalf of the independent review team I wish to extend my sincere sympathy to all those affected," she said.
"We will investigate fully the circumstances contributing to the infection, and examine the effectiveness of the management and response of the health and social care organisations involved.
"We are extending an invitation to meet the families of the babies who died, and others affected by these incidents, as it is of utmost importance that we learn from their experiences."
Last week, Chief Medical Officer Dr Michael McBride told the assembly that Pseudomonas had been detected in water samples in a small number of taps in all neo-natal units in Northern Ireland.
He said that all 175 taps in neo-natal units were being replaced, with priority being given to taps where contamination had been detected.
Neo-natal wards across Northern Ireland have also conducted deep cleans and intensive checks for the bacteria that can be found in water supply units.
Only sterile water is being used for the direct care of patients.