Company investigates Newtownabbey's Valley Leisure Centre water tests letter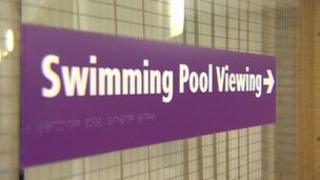 A company said it is investigating what it claims to be a defamatory letter sent to Newtownabbey Borough Council, about tests carried out at a leisure centre for the bacteria that causes Legionnaires' disease.
It is in the process of issuing legal proceedings against a former employee.
The council confirmed that Healthy Buildings International admitted producing fake test results.
The disease can be caused by breathing in contaminated water droplets.
The Valley Leisure Centre was given the fabricated results over a six-month period last year.
The centre had employed east Belfast-based Healthy Buildings International Ireland to carry out monthly checks.
In a statement, the company said they were investigating what they described as an anonymous and defamatory letter and would issue a fuller statement once legal clearance had been given.
The chief executive of Newtownabbey Borough Council Jacqui Dixon explained what happened.
"The council received an anonymous letter last week which made allegations about the testing of Legionella in our swimming pools. So we launched an immediate investigation into the matter," she said.
"As a result of the company who were involved in the testing admitted that our results were falsified for a six-month period during 2011."
The council has said the swimming pool does not pose a risk to the public, however the spa area remains closed while further tests are carried out.
The Health and Safety Executive is now investigating what happened.