Impact of housing benefit changes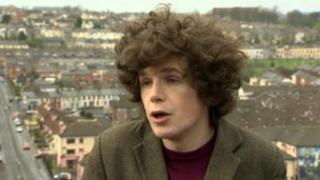 Yvette Shapiro from The Sunday Politics reports on how recent changes to Housing Benefit are affecting tenants who rent from private landlords.
Eamonn Brown is unemployed and lives alone in a one bedroom flat in Londonderry's Bogside.
His rent of more than £80 a week is covered by housing benefit.
Under the new rules affecting private sector tenants aged 24 to 35, he will be reassessed later this year and his benefit will be more than halved.
Eamonn will have to move to a shared house.
At 29, he thought his days of living like a student were behind him and he does not want to share his space.
"I'm angry, really angry about it," he said.
"But it's not just me, it affects everyone.
"You're going to have to live with other people, probably people you don't know.
"People who've paid taxes all their lives, they're going to be made homeless because of these cuts."
The Housing Executive estimates that around 6,000 young people will be affected by the changes to housing benefit rules and that the average reduction will be £29.
However, many, like Eamonn, will find that their allowance is cut by more than this when their benefit comes up for review.
Derry estate agent Eddie O'Connor said the full impact of the cuts has not been felt yet, but his clients are worried.
"Young tenants are panicking," he said.
"They've got letters from the Housing Executive telling them about the changes, and they're coming into us and saying that they love where they live and asking if they can stay. The answer's probably no."
The government hopes that the cuts to housing benefit will persuade private landlords to drop rents, so that accommodation for young single people becomes more affordable.
But Mr O'Connor said that this is unlikely to happen in reality.
"The landlords have bought properties and many are in substantial negative equality as it is. You can't expect them to take a 50% reduction in rent.
"You just have to ask the tenants to leave if they can't pay the rent. It's a business. They'll just rent the properties to older tenants who can afford to pay."
Social Development Minister Nelson McCausland, does not agree with this analysis.
"If it's a choice between taking a reduced rent or no rent, then I think I know what decision the landlord will make in those circumstances," he said.
"In some places the demand will be so high that they can afford to hold out, but in others the rents will be forced down."
Rent control
The minister concedes that his department and the Housing Executive, which is under his control, has failed in recent years to build enough accommodation for single people, young and old.
A new housing strategy, due to be unveiled shortly, will contain plans for remodelling existing properties and building new ones.
Mr McCausland will not be drawn on suggestions that landlords may be able to get grants to convert properties into shared houses for single people.
The changes to housing benefit are not just affecting young single tenants. Welfare rights campaigners fear there will be widespread social upheaval and hardship as a result of the benefit cuts.
Goretti Horgan, a lecturer in social policy at the University of Ulster, said the benefit changes will prove to be counterproductive.
"It is really moving towards an American situation where children have to move from pillar to post, have to move schools within the school year, perhaps on several occasions," she said.
"The difference between us and America is housing benefit. It's a big difference."
Mr McCausland said that such fears are being overstated.
"There's been a danger of being alarmist," he added.
"There may be people living in houses that are too expensive for their means, and they may have to to move to other accommodation. People move all the time."
Last year, more than half a billion pounds was paid out in Housing Benefit in Northern Ireland, up 10.7% from the previous year.
Almost £280m of that went to private landlords. It's estimated that the latest benefit changes will affect around 6,000 young people, losing on average £29 per week.
A discretionary payment fund operated by the Housing Executive is to be doubled to help tenants who face shortfalls in their rent.
From April, almost £3.5m will be made available for hardship payments, on a case by case basis.
But is there more that Stormont politicians could do to soften the blow?
"They could introduce rent control," suggests Goretti Horgan.
"And they could ensure that the hardship payments, the discretionary funds, will be available to everybody and that they'll continue for everybody for as long as needed."
Estate agent Eddie O'Connor said his immediate concern was for young tenants in Derry facing cuts in their benefit.
"The politicians have to be more flexible in different areas," he said.
"I'd say our wages in Derry are the lowest in Northern Ireland. There are a lot of young people in difficulty. You can see them huddled outside the hostel, queuing to get in.
"The politicians should spend a week down here. They need to help young people to get housing."
The Sunday Politics is on BBC One Northern Ireland at 12.00 GMT.