Coleraine job fears over Driver and Vehicle Agency merger review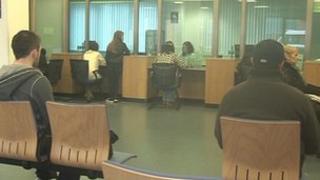 More than 300 jobs at the Driver and Vehicle Agency at Coleraine could go as a result of a government review.
Northern Ireland currently operates a separate licensing system to the rest of the United Kingdom.
The review could result in the merging of the Northern Ireland system with the one based in Swansea.
There are concerns though that integrating the two computer-based systems could lead to the loss of more than 300 jobs in Coleraine.
Pressure for integration though is growing because of a gulf in service levels.
Lack of money
Unlike in Britain, motorists in Northern Ireland are currently unable to tax their vehicles online and a lack of money is also blamed for restricting the expansion of a telephone licensing service here.
A spokesman for the Department of the Environment said: "DVA would very much like to provide a much wider service but DVLA in Swansea refuse to fund it.
"It must always be remembered that vehicle licensing is not a devolved matter; it remains the responsibility of the London government."
The review of the vehicle licensing system will look at integrating the computer systems in Coleraine and Swansea and the extension of online and telephone services in Northern Ireland.
The move to allow motorists in Northern Ireland to tax their vehicles online is not getting the backing from Stormont you might expect.
Environment Minister Alex Attwood is concerned that if Northern Ireland's licensing system is merged with the one based in Wales, it would result in hundreds of jobs being lost at the Vehicle Licensing Agency in Coleraine.
"I have made it clear since the day and hour I became minister to London ministers that, while I want more services for motorists in the north, I will not allow a situation to arise where there are job losses as a consequence of work in Coleraine going to Swansea," he said.
The results of the review are expected in April.