Belfast Cathedral Quarter arts projects to get £250,000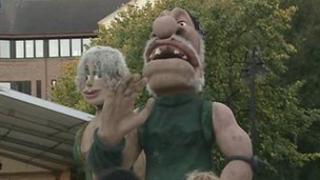 The Laganside Events Grant (LEG), which had been due to close in March, is to receive funding of £250,000.
Finance Minister Sammy Wilson is to provide £200,000 for one year, while the Department of Social Development is providing £50,000.
The LEG supports arts and cultural events in Belfast's Cathedral Quarter.
Social Development Minister Nelson McCausland said: "We're keen to see the area developed and I'm grateful Sammy was able to find the additional money."
He said he had recently had to inform groups previously funded through the grant that funding was being discontinued
"It is important that those groups who have received this grant previously now work to achieve long-term financial sustainability and move away from reliance on public funding," he said.
"I hope to engage in the coming weeks with the Cathedral Quarter groups to explore how best to achieve this necessary objective, given the current economic climate.
"As part of my reprioritisation of the budget, in the coming weeks I hope to be able to announce further assistance for local community groups operating in the Laganside area."
Paul McErlean, chairman of the Cathedral Quarter Steering Group, said: "The Cathedral Quarter is a vibrant hub for the arts in Belfast that plays host to some of the best cultural events in Northern Ireland.
"We very much welcome the way in which a number of government departments have worked together with the Department for Social Development in the last number of days to find ways to restore this funding and preserve a unique part of Belfast city centre.
"The events which this fund underpins are extremely popular both locally and with visitors from further afield; this is just recognition of the work that has taken place in the Cathedral Quarter over many years to create a shared cultural space in the most historic part of the city."