Cremation cost at Roselawn Cemetery in Belfast to rise by 25%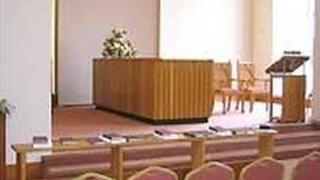 The cost of arranging the cremation of a loved one at Northern Ireland's only crematorium is set to increase by 25%.
Under new proposals from Belfast City Council, most burial charges across the city would rise by about 5% from the beginning of April.
Charges for a cremation at Roselawn Cemetery are set to rise to almost £250.
It follows a review of charges for burials and cremations by the council's Parks and Leisure Committee.
A council official told the committee last week the economic downturn was affecting some services and they hoped to generate additional income by reviewing charges for a number of services.
Ratify
The committee decided to recommend that most charges for burials and graves would rise by between 4% and 6%.
Councillors will decide whether to ratify the increases in a meeting on 1 March, but it is thought this will be a formality.
The council currently charges £198 for an adult cremation at Roselawn, but from 1 April this is set to rise to £248.
For cremating a child under 16, they charge £112 at the moment. This is going to rise to £140.
The cost of cremations for people from outside Belfast is already higher, but these charges are also rising by 10%.
For instance, it costs £437 for an adult living outside Belfast to be cremated there at present, but this is rising to £480.
Residents in the Castlereagh council area pay a reduced charge.
The council expects to raise £123,719 in the next financial year by raising the cremation fees.
A document to be presented to a different council committee on Friday - the Strategic Policy and Resources Committee - reveals that the council is forecast to underspend its budget for the current financial year.
The projected underspend across the entire council is £879,000.
There are plans for crematoriums to be built in Moira and Omagh.
The BBC has learned that Belfast City Council has committed up to £20,000 for a joint feasibility study with Newtownabbey Borough Council on whether to build a new crematorium beside Newtownabbey council's depot site on the Doagh Road.
A decision on whether to proceed with this project is still a long way off.