Nama sells Belfast city centre site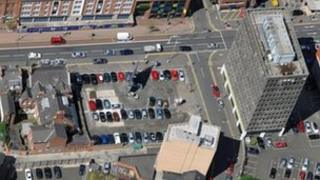 A site which was once earmarked for Belfast's tallest building has been sold by the Irish government's National Asset Management Agency (Nama).
The site on Great Victoria Street is understood to have been bought by the Cookstown-based Lissan Coal Company.
It has already submitted a planning application to build a petrol station.
During the property boom, a developer had planned a 37-storey apartment block on the site but it was later repossessed.
The selling agents, BTW Shiells, said there had been strong interest in the site from a number of bidders.
Stuart Draffin from the firm said: "The level of active bidding reinforced that there are still a number of credible end users actively seeking sites in the city centre.
"Potential interests included residential, leisure, and retail operators both on a straight purchase and a subject-to-planning basis.
"The sale will likely be good for Great Victoria Street as it should see another site which has been derelict, now for in excess of seven years, turned back into active use".
The price of the site has not been disclosed but it is likely to be a fraction of the £7m for which it once changed hands.
Last year, Nama sold an adjacent property on Great Victoria Street where a developer plans to build two hotels.