Sinn Fein set to support Belfast Diamond Jubilee events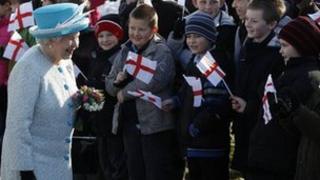 Sinn Fein members on Belfast City Council are set to support plans to celebrate the Queen's Diamond Jubilee in the city.
The celebrations are due to take place from 2 June to 5 June.
The planned events have been discussed by a special council working group.
Meeting minutes show that two Sinn Fein members of the group said that "they would be supporting" the plans when they come before the council's strategic policy committee.
Events planned for the Diamond Jubilee include the planting of commemorative trees, a tea dance to be held in the Ulster Hall and a 'big Sunday lunch' event at City Hall on Sunday 3 June.
A beacon will also be lit on Monday 4 June on top of Cave Hill.
There will also be a council-run grant scheme to help community organisations in the city organise their own jubilee events.
The projected cost of the celebrations is £56,000.
Tricolour
The events were discussed by the Joint Group of the Party Leaders Forum and the Historic Centenaries Working Group.
That is a group of councillors from all parties who were selected to look at how the council should approach the forthcoming decade of centenaries and commemorations.
Sinn Fein councillors Jim McVeigh and Conor Maskey are members of the working group.
At a meeting on 27 January they abstained from the group's decision to agree the Diamond Jubilee events.
However, at a subsequent meeting last Friday the Sinn Fein members supported the plans.
The minutes read: "The Sinn Fein members indicated that they had now had the opportunity to discuss within their group the Diamond Jubilee report which had been presented at the last meeting and they would be supporting the report at the next meeting of the Strategic Policy and Resources Committee."
In a statement, a party spokesperson said that they were not in a position to discuss these matters as talks are at a sensitive stage and there are a number of important issues to be resolved.
Meanwhile, the working group has also examined issues around the flying of the Union flag on council buildings.
The 27 January meeting received a presentation from Ms Denise Wheatley, an expert in equality policy.
She had researched equality issues around council policy on the flying of the Union flag.
She found that it was "acceptable and appropriate" for the council to fly the flag at City Hall, but suggested that there should be no Union flag flown at the Ulster Hall and the council's Duncrue complex.
With regard to City Hall, she put forward four options in descending order.
The fourth of these suggests that "both the Union flag and the Tricolour" be flown at City Hall.
Ms Wheatley stressed that these suggestions were her own professional opinion.
Any change to the current arrangements for flying the Union flag would have to be approved by council and issued for public consultation.