Northern Ireland prison officer recruitment drive launched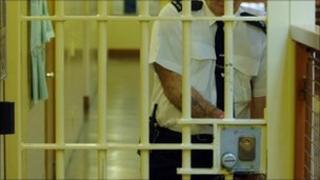 The Northern Ireland Prison Service has launched a recruitment drive for up to 200 new staff.
It is the first recruitment campaign for prison officers in Northern Ireland for more than 20 years.
The new custody officers will replace prison officers leaving as part of a redundancy scheme.
So far 371 officers have volunteered to leave and that number is expected to rise by the time applications for redundancy close on Friday.
There are more than 1,700 prison officers in Northern Ireland and the prison service wants 540 of them to retire early to make way for new recruits on lower salaries.
The redundancy scheme has been introduced for officers aged over 50. Many qualify for a lump sum payment of more than £100,000, plus an annual pension of £18,500.
Up to 200 new jobs are now available for custody officers, who will be responsible for maintaining security and supervising the movement of prisoners.
Prison officers who take redundancy can apply to be re-employed in the new roles.
But sources say that is unlikely to happen, because the new jobs will not be as financially attractive.
Transformation
The new custody officers will start on a salary of £18,000 - rising to a maximum of £23,000.
The prison officers targeted in the redundancy scheme earn up to £38,000 a year.
Director-General of the Northern Ireland Prison Service, Colin McConnell, said that the new posts were not a result of cost-cutting measures.
"This really is about the wholesale transformation of the Northern Ireland Prison Service," he said.
"The economics of the organisation are a key element of that, and the salaries that staff have been enjoying were driven by the circumstances of the past.
"Making comparisons with other jurisdictions and looking at the Northern Ireland economy now and what the taxpayer can afford, we believe we've put in place competitive rates.
"Salary is only one part of it. This really is about refreshing, and changing and refocusing the Northern Ireland Prison Service moving forward."
Applicants will have to pass a number of tests to be short-listed for further assessment, and those appointed will undergo regular on-the-job training and testing to move up the salary scale.
Unlike the Patten reforms of policing, there will not be a 50-50 recruitment process, but the advertisements welcome applications from Catholics, who currently make up 10% of the prison service workforce.
They also target women, who account for 22% of staff.
The redundancy scheme and recruitment of new staff are key parts of a fundamental programme of reforms for a prison service that has been widely criticised in recent years.
The aim is a new approach as well as new faces.