Poots reveals 26 Pseudomonas deaths in four years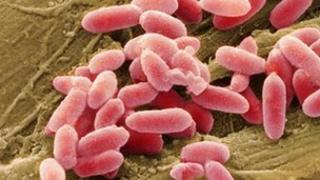 Twenty-six people died from Pseudomonas in Northern Ireland between 2008 and 2011, the assembly has been told.
A further two people have died after contracting the infection this year although those figures are provisional.
The figures do not include the recent deaths of four babies at neo-natal units.
The Health Minister, Edwin Poots, revealed the figure on Wednesday as he briefed the assembly's health committee on the investigation.
Mr Poots said it should be considered within the context of the number of confirmed cases each year, approximately 85.
In December, a baby died from a Pseudomonas infection at Altnagelvin Hospital in Londonderry.
In January, three more died from a different strain of the infection at the Royal Jubilee Maternity in Belfast.
Mr Poots told the committee there had been no new cases of Pseudomonas in neo-natal units since 24 January.
He added that the independent investigation into the outbreak was under way and an interim report was expected by 1 March.
The Chief Medical Officer, Dr Michael McBride, said Pseudomonas had been detected in water samples in a small number of taps in all neo-natal units in Northern Ireland.
He said that all 175 taps in neo-natal units were being replaced, with priority being given to taps where contamination had been detected.
All taps in the Royal Jubilee Maternity in Belfast had been replaced by taps using ultra-violet technology, Dr McBride added.
He said there was good evidence that these taps were effective with some waterborne infections, including legionella.
Committee chairperson Sue Ramey of Sinn Fein asked when the taps had last been replaced.
Mr Poots said many of the taps would have been replaced in the past five years.
He added that a lot of the taps would have been replaced by new, non-touch versions, but it had since transpired that the older kind of tap may have been safer.
Neo-natal wards across Northern Ireland have also conducted deep cleans and intensive checks for the bacteria that can be found in water supply units.
Only sterile water is being used for the direct care of patients.