Peter Robinson and Martin McGuinness admit hearing problems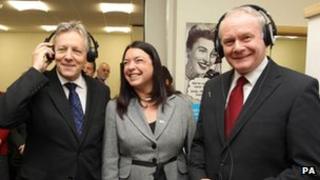 Northern Ireland's first and deputy first ministers have revealed that they both suffer from hearing difficulties.
Speaking at the launch of a new office for Action On Hearing Loss in Northern Ireland, DUP leader Peter Robinson said he has less than 20% hearing in his left ear.
Deputy First Minister Martin McGuinness also revealed he has hearing problems - but his was in his right ear.
He said he has suffered from tinnitus.
Mr Robinson said his problem started about two years ago.
"I couldn't hear anything at all with my left ear," he said.
"I just woke up in the morning, there wasn't any illness or accident associated with it.
"Clearly the first reaction is alarm and some kind of panic and then you start to work around it.
"It requires you to work around the issue, make sure that you're facing people."
'Low ringing'
Mr McGuinness added: "I've had tinnitus for about the last 10 years.
"It's a very low ringing noise in my ear, but it's something that I can cope with.
"His (Mr Robinson's) is obviously much more difficult and I think there's no comparison between the challenges that he faces and the challenges I face."
Mr Robinson joked: "Now you know the secret of how we work so well together."
Five million people in the UK are thought to live with tinnitus, although not all suffer from hearing loss as well.
The British Tinnitus Association says that about 10% of the UK adult population have mild tinnitus all the time and, in up to 1% of adults, this may affect their quality of life.
Tinnitus is the perception of sound in the absence of any actual, corresponding external sound and it can occur at any age - even in quite young children.
Although the precise cause of tinnitus is still not fully understood, experts say there are certain things which should be avoided, including loud music.