Northern Ireland unemployment down but number on benefits up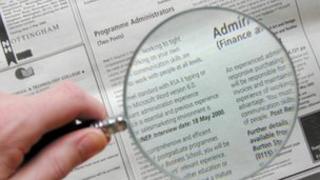 The unemployment rate in Northern Ireland currently stands at 7.2%, below the United Kingdom average of 8.4%.
The Labour Force Survey of unemployment for October to December 2011 was down 0.1% on the previous quarter and down 0.7% since last year.
However, 7% of the working population in Northern Ireland claimed Jobseekers Allowance in January.
The number of people claiming unemployment benefit rose to 61,500, an increase of 600 from December.
It is the second highest rate of claimants among the 12 United Kingdom regions.
Northern Ireland continues to have a high rate of economic inactivity - 27.2% which compares to a UK figure of 23.1%.
People who are not able to work or are not seeking work are classed as economically inactive.
About one third of those classed as economically inactive in Northern Ireland are sick or disabled and another third are students.
Enterprise Minister Arlene Foster said her department would make every effort to generate new employment opportunities.
"This increase in claimants was the largest for several months and emphasises that there is still work to do in order to move on from the impact of the economic downturn," said the minister.
"Yesterday's (Tuesday) decision by the executive to fund a number of capital projects is a welcome boost for the Northern Ireland economy as a whole.
"This major investment will generate in excess of 2,500 construction jobs which is welcome news for the construction industry at this difficult time."
The Department of Enterprise, Trade and Investment (DETI) were also notified of 124 confirmed redundancies in January 2012