New Belfast city centre hotel gets planning permission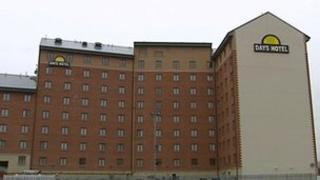 Planners have given the go-ahead for a new hotel in Belfast city centre.
The plans for the 130-bedroom hotel were submitted by Andras House in 2009.
The firm, which is controlled by Lord Rana, owns a number of other hotels in the city.
The site for the new hotel is at St Andrews Square, off Great Victoria Street, and is currently used as a car park. It is almost opposite the Days Hotel, which is also owned by Andras House.
The granting of planning permission does not mean that building work needs to begin imminently.
Planning permission lasts for five years and if at that stage work has not begun, a fresh application would need to be made.
A significant number of new hotels have opened in Belfast in the last decade but new developments have almost ground to a halt as a result of the recession.
Nonetheless, plans have also been submitted to develop a further two hotels on Great Victoria Street on the site of the Fanum House office block.
The site owner Seamus Gillan has signed up the French hospitality firm, Accor to operate the hotels.