Stephen Carroll trial: Army intelligence lost tracking data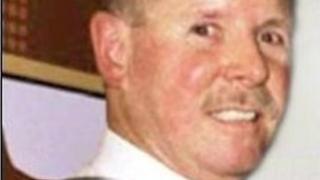 Members of a specialist army intelligence unit have been unable to explain how vital tracking information relating to the murder of Constable Stephen Carroll was deleted.
Three soldiers were questioned in court on Monday, during the trial of John Paul Wooton, and Brendan McConville, who are accused of Constable Carroll's murder.
Constable Carroll was the first PSNI officer to be murdered when he was shot in March 2009.
Both defendants deny the murder.
Army intelligence officers had hidden a GPS tracking device in the car of Mr Wooton - who was 19 years old when Constable Carroll was killed.
The prosecution said that the car was used to transport the killers to and from the scene.
One soldier - named only as PIN 8625, and concealed from the court by a screen - described how he had removed the tracker from Mr Wooton's car the day after the murder, and placed it in a storage facility at an un-named base.
He then went on leave before downloading and saving its contents, which plotted the movements of the car before, during and after the murder.
Despite there being no record of anyone else having touched the device the material on it was deleted.
None of the soldiers were able to explain how, or by whom.
One of the defence barristers then asked whether there had also been a listening device installed in the car, at which point the prosecution intervened.
The disclosure of such information will be dealt with later.