EasyJet turns away Belfast schoolgirl who lost boarding card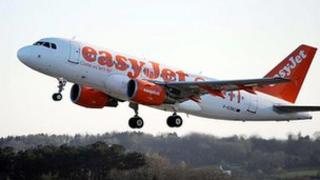 A 14-year-old Belfast schoolgirl has been prevented from flying home by easyJet after losing her boarding card.
Frances Wilson was on a school trip to England and was to fly back from Gatwick to Belfast International on Friday night.
Instead, Frances and a teacher had to stay an extra night in London and fly home with Flybe the following morning.
EasyJet has apologised but said boarding cards are necessary because of security regulations.
After realising she had lost her boarding pass the teenager reported it but the airline were not able to get her a replacement in time and she was not allowed to fly.
Her mother Emma told Good Morning Ulster that she was disappointed with the way the situation was handled.
"My issue is that she had already gone through all the security checks," she said.
"They had scanned her boarding pass, she had her passport there. She's not really a high risk person flying with easyJet.
"They could have easily gone onto the computer screen and saw her photograph and confirmed it was her.
"They had ample time to sort the problem out. When an incident happens they must have a policy that they follow themselves to sort out the situation.
"A passenger losing their boarding pass must be something that occurs quite frequently.
"It is clearly not unique to a child. It is something that all of us who are seasoned travellers get into a panic about every now and again.
"So it is something that should be well prepared for."
However, easyJet insisted that lack of time made getting a replacement boarding pass difficult.
"We were sorry to hear that the passenger lost their boarding card after checking-in, however, it is the responsibility of the passenger and / or any adult leaders to ensure that any children in their party have their boarding card for their flight," the airline said in a statement.
"The safety and security of all of our passengers is always of our prime concern, and therefore in line with aviation security regulations we are not permitted to allow passengers to travel without their boarding card.
"Every endeavour was made to issue a replacement boarding card, however, regrettably there was insufficient time for this to be re-issued prior to the flight's on-time departure."