Northern Ireland prison education provision 'deteriorates'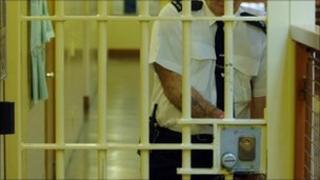 The provision of education and training for Northern Ireland's prisoners is deteriorating, a report has claimed.
The report has been compiled by Criminal Justice Inspection NI and the Education and Training Inspectorate.
Dr Michael Maguire, the criminal justice chief inspector, said providing learning and skills was a major element in prisoner rehabilitation.
"If that provision is inadequate, then the system not only lets prisoners down but wider society as a whole," he said.
"While there have been pockets of excellence and innovative practice inspectors found that the situation continues to deteriorate and that is unacceptable.
"With more than 60% of prisoners below the minimum required level in their essential skills of literacy and/or numeracy, too few are being helped to address their deficits."
Noelle Buick, education and training chief inspector, added: "While inspectors have made numerous recommendations to improve the Learning and Skills provision in prisons, progress has been negligible for a variety of reasons, including the low status afforded to Learning and Skills across the prison service."
The chief inspectors have urged the Justice Minister David Ford to consider outsourcing more of the education and training for prisoners.
They said this could be done by either public or private sector providers.