Amnesties should be option in Northern Ireland: Al Hutchinson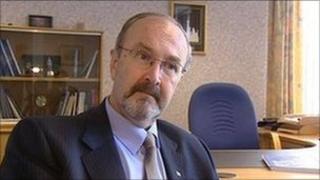 Northern Ireland Police Ombudsman Al Hutchinson has said it would be impossible to investigate all murders from the Troubles.
He said an amnesty should be considered to deal with the past.
Mr Hutchinson has left his office early but will not formally resign until his successor is in place.
He said that any amnesties would be conditional and that victims should be the driving force in making decisions on individual cases.
"I think the key here is that the victim would have a say whether or not they might consider amnesty and that would be a conditional amnesty," he said.
"We've had amnesty by many other names, when you look at the two-year release in the peace agreement, you look at the inquiries that are ongoing.
"So it's not as if it's a new concept either locally or internationally.
"I think the key is to focus on the victims and society needs, as opposed to a legal process that enriches people and revictimising people."
Mr Hutchinson said he had worked with a number of victims and they all wanted different things.
"Some want truth, some want reconciliation, some want retribution," he said.
"I think the people who drive it are the people who have suffered over time."
The ombudsman stressed he was not suggesting a blanket amnesty.
"My reading on international law is that murders, tortures cannot be abrogated - the state has a duty to investigate.
"The amnesty issue is as much a moral issue - truth and justice - as it is pragmatic.
"I take the pragmatic approach; it simply would be impossible probably to investigate to a criminal standard all murders."
The police's Historical Enquiries Team was set up in 2005 to re-examine 3,269 murders from the Troubles.
New charges have been brought in a small number of cases.
However, there have been concerns about the volume of cases the HET has had to examine and the funding available to it.