Three property firms in receivership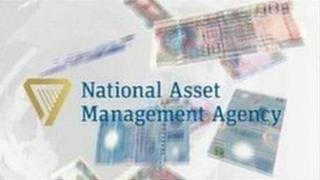 Three Isle of Man-registered property firms associated with a County Antrim developer have been placed into receivership.
The receivers were appointed by the Irish government's National Asset Management Agency (Nama).
The companies are called Naviasky, Botha and Tarajan and all were registered at the office of a financial services firm in Douglas.
The Templepatrick property developer Alastair Jackson is the main shareholder in each of the companies.
Company documents indicate that Naviasky had lands at Suncroft, the Curragh in County Kildare. There was a Bank of Ireland mortgage on that property.
Tarajan had property at Gowran in County Kilkenny while Botha had property at Walterstown, Nurney, County Kildare. Those properties were mortgaged with Irish Nationwide.
The Jackson property empire which stretched across Ireland has unravelled in the island's property crash.
The group's main Northern Ireland firm, Eassda, was placed into administration in November 2009.
At the time the administrator was appointed, the company owed Ulster Bank, Northern Bank and Bank of Ireland a combined £28.6m.
Unsecured creditors were owed a further £1.35m, including £322,744 due to Double R Racing, a Surrey-based motor racing company co-owned by ex-Formula One world champion Kimi Raikkonen.
The company had six housing sites in County Antrim, including locations at Larne and Antrim.
In July 2011 Northern Bank appointed a receiver to a further site in the Village area of south Belfast.
The company also lost control of two golf resorts in the Republic when Irish Nationwide building society called in receivers in July 2010.
The resorts were New Forest Golf Club in Tyrrellspass, County Westmeath and Moyvalley Hotel and Golf Resort in County Kildare. Both are continuing to trade.
In 2011 another group company, Eassda Ireland, was named in the official list of tax defaulters in the Republic of Ireland
The firm paid £2.2m in back tax and another £900,000 in interest and penalties.
A revenue audit had found an under-declaration of relevant contracts tax.
That is a tax which concerns the payment of subcontractors in the construction industry.