HET called to review 1997 RUC murders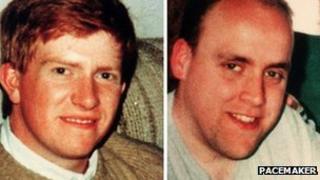 There has been a call for the Historical Enquiries Team (HET) to bring forward a review of the original police investigation into the murders of two RUC men in June 1997.
Constables David Johnston and John Graham were shot dead in Lurgan.
They were the last police officers to be killed by the IRA in Northern Ireland.
The call follows a meeting between the families of the two victims and the DUP MP for Lagan Valley, Jeffrey Donaldson.
Mr Donaldson said he was planning to meet the HET soon and was hopeful of obtaining a full review of the RUC investigation.
He said: "The police were pursuing a number of lines of inquiry and it's unfortunate prosecutions were not secured but I think it is timely for the HET to look again in order to determine if the case can be strengthened to the point were prosecutions are possible."
The HET is working through 2,500 unsolved cases from three decades of the Troubles, largely in chronological order from 1968.
The two policemen were shot dead on foot patrol at Church Walk in Lurgan, a month before the IRA renewed its ceasefire ahead of the Good Friday Agreement signed the following year.
Constable Johnston's mother Thelma said: "I just want justice for my son and Pearl Graham's son.
"Before she died she said to me 'you keep fighting' and that is what I am trying to do. To find out who were the perpetrators would be great."
Mr Donaldson said the PSNI have told him the case remains open.
In 1997, prominent Lurgan Republican Colin Duffy was accused of the murders, but months later the charges were dropped because the Director of Public Prosecutions said the evidence was insufficient for a reasonable prospect of a conviction.
He has always denied any involvement.