Smithwick Tribunal: Ex-garda denies changing evidence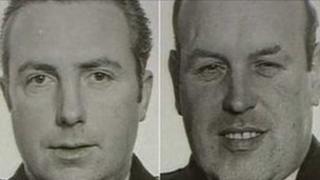 A retired assistant Garda commissioner has denied changing his evidence to the Smithwick Tribunal to "coincide" with that of a former justice minister.
The tribunal, is investigating allegations of Garda collusion in the 1989 murders of two senior RUC officers.
Chief Supt Harry Breen and Supt Bob Buchanan were shot dead by the IRA in south Armagh.
On Friday, the tribunal has been hearing evidence from Patrick O'Toole.
In a previous statement to the tribunal, Mr O'Toole said the purpose of an immediate Garda investigation following the murders was "to investigate collusion allegations".
On Friday, Mr O'Toole told the tribunal that he had since checked the terms of reference of the 1989 investigation and his statement was incorrect.
"The investigation was to establish the arrangements and circumstances of the meeting of the RUC officers at Dundalk Garda Station" he said.
When asked why he had only brought the matter to the attention of the Tribunal this morning, Mr O'Toole said he had looked up the terms of reference in Garda headquarters after hearing the evidence last September of Gerry Collins, the Republic's justice minister at the time of the murders.
The day after the murders, Ned O'Dea, then the assistant Garda commissioner, was sent to Dundalk to conduct an enquiry.
"Immediately after Gerry Collins' evidence I spoke to Mr O'Dea as well" Mr O'Toole said.
But he said he had not discussed his evidence with Mr O'Dea, only the terms of reference.
Asked by tribunal barrister Mr Justin Dillon SC if he had spoken to any other Garda officers, Mr O'Toole also said he had spoken to retired assistant commissioners Dermot Jennings and Jim McHugh.
Asked if he was anxious to ensure his evidence "tailored with official garda evidence", Mr O'Toole replied: "Not at all, I'm anxious to tell the truth."
The tribunal also heard that a Garda intelligence document exists that outlines when it was known the two RUC officers were travelling to Dundalk Garda Station.
The tribunal continues.