Nigel Dodds calls for talks over football eligibility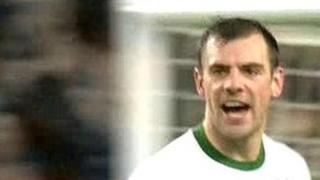 A DUP MP has said the British and Irish governments should hold talks to stop footballers from Northern Ireland opting to play for the Republic.
North Belfast MP Nigel Dodds was speaking at Westminster as MPs debated the issue of governance in football.
The DUP Deputy leader said "action needs to be taken to stop the haemorrhaging of talent from Northern Ireland".
He said there needed to a "higher discussion about this".
The British and Irish governments should get together to address an "injustice", he added.
He also called on Uefa and Fifa to re-examine the issue which he claimed uniquely affected Northern Ireland.
A ruling by football's governing body Fifa allows players from the island of Ireland to choose which national side they represent providing they have not played for the other in a competitive senior international.
The Good Friday Agreement provided for Northern Ireland-born people to claim either British or Irish nationality.
In July 2010, the Court of Arbitration for Sport ruled against the Irish Football Association's bid to prevent more Northern Ireland-born players opting for the Republic.
Speaking in Westminster to the BBC, Mr Dodds, who takes an interest in football matters as a long-suffering Everton fan, said the ruling needs to be overturned.
He said "the real problem is that the Northern Ireland team will suffer badly if this rule remains in place".
In recent times, several Northern Ireland-born players have opted to pay for the Republic.
These include Everton's Darron Gibson, Stoke's Marc Wilson and Preston North End's Daniel Devine.
Sunderland's rising star James McClean is another who chose to play for Giovanni Trapattoni's team rather than Northern Ireland.
McClean, who has made headlines after moving from Derry City, is hoping to press a claim for a place in the Euro 2012 finals.
The debate about player eligibility has rarely been out of the headlines in recent months and naturally divides opinion in Northern Ireland.
Those in favour of maintaining the status quo argue that it is up to each footballer to decide which country he plays for.
They also argue that a players right to pay for the Republic is enshrined in law.
Last month, the new Northern Ireland manager Michael O'Neill spoke about the issue.
He said: "A lot of these lads have played their youth football in Northern Ireland, they have played representative for Northern Ireland at under age level."
The former Shamrock Rovers boss added: "It is important we look after these players and mentor them so they see the benefit of having a long and distinguished career with Northern Ireland as opposed to possibly being on the fringes of the Republic of Ireland squad."
Last year, in a BBC Radio Ulster documentary entitled 'Does the Cap Fit' Northern Ireland football legend Gerry Armstrong claimed there was evidence that teenage players from north of the border were being approached to play for the Republic of Ireland.
Mr Armstrong said players as young as 15 were being approached. The Football Association of Ireland said it was not involved.
Sinn Fein's Pat Sheehan said players had "a fundamental right" to choose to play for either team at international level.
"Nigel Dodds cannot force people to play for one team or another just as he cannot force people to choose whether they choose to identify themselves as Irish or British," he said.
"He would be better calling for talks between the two governing soccer bodies on the island in the hope of having one team represent Ireland."