Mitchel McLaughlin critical of civil service 'immunity'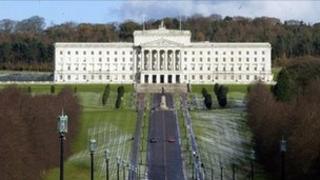 A Sinn Fein MLA on the Public Accounts Committee (PAC) has said that certain practises in the civil service would not be tolerated in private business.
Mitchel McLaughlin made the criticism after it was revealed that a consultancy contract on a new accounting system extended to 10 times the original budget.
On Wednesday the PAC heard details of the "Account NI" project overspend.
The cost of the project rose from £970,000 to £9.7m.
It also took four years longer than the three years planned to complete it.
At the PAC hearing a senior civil servant told MLAs that he did not consider the project to be an overspend.
Stephen Peover, the permanent secretary of the Department of Finance and Personnel (DFP), told the PAC that the nature of the project had changed over time.
"It became a different beast. It was an elephant rather than a horse," he said.
"If we were doing this again we wouldn't do it this way."
But Mr McLaughlin is not satisfied that enough was done and called the projections "hopelessly wrong".
"I am very, very angry and I am very concerned that there appears to be almost a sense of immunity at the senior civil service level when these basic mistakes are made," said the Sinn Fein MLA.
"If it walks like an overspend and it quacks like an overspend, than as far an the public is concerned then it is an overspend.
"If this was private practise I do believe that people would find very clear references in their employment CVs.
"We have to get to the point where we examine across all of our reports to see whether the same officials are cropping up in terms of the mistakes made in the delivery of the public programme."
An audit office report recommended that "in order to demonstrate value for money" DFP should have undertaken separate procurement exercises for each of a series of contract extensions.
The report said that the contract had overrun in terms of cost and time "particularly given that the scope of the project remained unchanged throughout".