Fishy tale: Birthday celebrations mark 25 years of NI's aquarium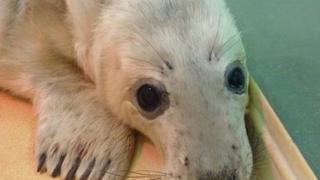 It's a bit of a fishy tale: You can handle a Thornback ray, stroke a small shark or even view the enigma that is the lumpsucker.
Or you could be entertained by Arran, Utila, and Jura - three sick seals being restored to full health.
Yes, it's the weird and wonderful, watery world of discovery at Exploris.
The Portaferry aquarium, on the shores of Strangford Lough, is celebrating its 25th anniversary this year.
From humble beginnings in 1987, it has developed into a major tourist attraction, giving an insight into the amazingly diverse marine life around the Northern Ireland coastline.
Strangford Lough is home to nearly three quarters of all the marine species to be found in local waters.
With this in mind, lough water is pumped into the fish tanks to maintain as natural an environment as possible.
General manager Helena Challinor said Exploris appealed to all ages - particularly the discovery pools where creatures such as starfish, sea urchins and scallops can be touched.
"Children of all ages, and adults too, love to touch and feel the marine wildlife in a safe environment for both the public and the fish," she said.
"The pools are very popular and are one of the main reasons why people come here, for the hands on interaction. That's what sets us apart from a lot of other aquaria. "
As a result of its popularity the aquarium was extended and re-themed in 1994.
It currently features two tropical fish tanks, housing, amongst other species, big nose unicorn fish, lion fish and pot bellied sea horses.
Ms Challinor said, of all the fish in the aquarium, she prefers the cuttle fish - but describes a big wolf fish as "quite a character".
And then there was Gabriel, the angel fish, which has, sadly, passed away.
"We got him from Galway, where he had eaten his way through the rays in the main tank. He came here and had a tank to himself. He was almost two metres long and fully mature when he died."
With about 100,000 visitors each year, mainly in the summer months, the seals are also a big attraction.
The purpose-built seal sanctuary opened in 2000 - and it has now rescued and cared for more than 300 seals since 1989 when it was housed in a garden shed.
Seal Rehabilitation Officer Tania Singleton said the work began when a young, grey seal pup was found on a beach and needed help.
"At that time there were no seal rescue facilities in Northern Ireland so, after seeking advice, the seal was cared for at the aquarium," she said.
"Initially, we made do with a garden shed and the seawater pool at the entrance to the aquarium.
"As word spread of our rescue work, we started receiving more and more calls about seals and soon we were rescuing seals from around the whole of the Northern Irish coastline."
There are currently five seals in the sanctuary but it has housed about 18 since the beginning of the season last June.
"Seals have got the cute factor with their big eyes and big whiskers," said Tanya.
"But they can be fierce, particularly when first rescued. They do try to bite us and fight against us. They are very clever and try to tip onto their backs. They can be very difficult to restrain."
Many of the rescued seals - some as young as one day old - have been been sick, orphaned or simply malnourished.
And for their own records, and also their entertainment, the staff give the seals names.
One year, the seals were named after fruit and vegetables - so there was apple, mango and kiwi for instance.
Subsequent years have seen the mammals named after Mr Men and the Teletubbies. This year the theme is islands, hence Arran, Utila, and Jura.
So, it's more than just a job for the 18 permanent staff who work at the aquarium. The staff are passionate about what they do.
"It's a very rewarding job, we love coming to work in the morning," Tanya said.
The aquarium is hosting a range of events to mark its silver anniversary. The details are on its website www.exploris.org.uk.