Stephen Carroll trial: Explosives expert critical of evidence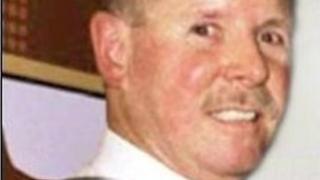 An explosives expert giving evidence at the Constable Stephen Carroll murder trial has strongly criticised the prosecution team.
Constable Carroll was the first PSNI officer to be murdered when he was shot dead in Craigavon in March 2009.
The forensic scientist said he has been constantly frustrated and found it very difficult to do his job due to the "shifting sands of the prosecution".
The defence witness said they were inconsistent and incompetent.
He was especially critical of two forensic scientists who were prosecution witnesses and who had examined the murder weapon.
The explosives expert said he was at a loss to understand why the gun had not been cleaned before it was test fired and that the lack of control in the experiments invalidated any results.
The scientist also told Belfast Crown Court that since 2006 the FBI has not used gunshot residue evidence in its cases due to the variability of results.
Brendan McConville, 40, from Glenholme Avenue, Craigavon and John Paul Wootton, 20, of Collindale, Lurgan, deny murdering Constable Carroll.
Mr Wootton's 48-year-old mother Sharon, of the same address, denies perverting the course of justice.
The trial continues.