Northern Ireland sex industry 'fastest growing in UK'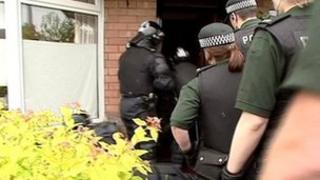 An organisation that campaigns for ethnic minorities has said Northern Ireland has the fastest growing sex industry in any part of the UK.
The claim was made as the justice minister announced plans for two new laws to combat human trafficking.
Speaking in the assembly on Tuesday afternoon, David Ford said the PSNI had identified 26 potential victims in Northern Ireland since April 2011.
The countries they come from include Ghana, Zimbabwe, China and Slovakia.
Last week, a man was convicted for trafficking in a Northern Ireland court for the first time.
Four other cases are currently going through the justice system.
Helena McCormick from the Northern Ireland Council for Ethnic Minorities said: "We know from police statistics that we have the fastest growing sex industry in the UK at the moment.
"Part of that could be a displaced problem from the south of Ireland. We know from talking to other NGOs in the south that as their legislative processes move on that it could displace the problem to Northern Ireland."
Mr Ford said he intended to introduce measures to meet the requirements of an EU Directive on Human Trafficking.
The move would strengthen legislation by extending powers to prosecute UK nationals who commit human trafficking offences anywhere in the world and create a specific offence to deal with those who traffick United Kingdom citizens within the United Kingdom.
"As I highlighted when I launched the Organised Crime Taskforce Strategy last week, I am committed to doing all I can to tackle this wicked crime," he said.
"As part of that I am planning to bring forward new offences to strengthen legislation in this area.
"The new offences reflect the fact that human trafficking is a global problem."
'Not Pretty Woman'
During the debate, Alliance's Anna Lo said human trafficking was "a modern day slavery that generates profits from human suffering and represents a vulgar abuse of the fundamental human right of freedom.
"I welcome the recent news of the first conviction for human trafficking in Northern Ireland and commend all those involved in the process which brought about this conviction."
Jennifer McCann of Sinn Fein said: "We need to put these people away, we need to give them long prison sentences and we need to make sure that a strong message is sent out that it is totally unacceptable, it's a vile crime and it is against a person's human rights."
The DUP's David McIlveen said: "This is not Pretty Woman. This is not the glamorous happy hooker as appears in a number of the Sunday newspapers.
"This is rape for profit. This is a high-yield, low-risk crime."