Pickwick Papers please Paterson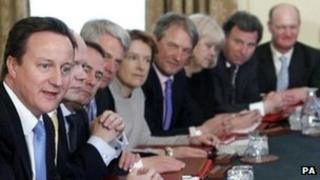 Owen Paterson emerged from the weekly cabinet meeting in Downing Street on Tuesday looking pleased and clutching a little present.
To celebrate the 200th anniversary of the birth of Charles Dickens, the secretary of state for Northern Ireland was given a copy of The Pickwick Papers by his colleague Culture Secretary Jeremy Hunt.
All the members of the cabinet were given books to mark the birth of Dickens who is regarded as one of the greatest writers in the English Language.
The prime minister was given copies of Great Expectations and Hard Times.
Sceptics might suggest that in our current economic circumstances both titles were particularly appropriate.
For the Northern Ireland secretary the choice of book could not have been more pleasing since he is very familiar with the story.
He said: "I was delighted to receive the Pickwick Papers as it is my favourite Dickens book."
The Conservative MP also said it brought back memories of one of his first trips abroad.
As an undergraduate in the 1970's, Owen Paterson travelled across India by train and used the time to read Dickens first novel.
Mr Paterson said he remembers reading it on the journey and "laughed out loud" in front of fellow passengers.
Reading it at his leisure on a train was particularly fitting since The Pickwick Papers features a travel club headed by Samuel Pickwick who make journeys across England to remote places and then report their findings to other club members.
Pickwick is joined by Tracy Tupman a renowned ladies' man, the wonderfully named Augustus Snodgrass who is a failed poet and Nathaniel Winkle a lacklustre sportsman.
Renowned author G. K. Chesterton said the book gives "that sense of everlasting youth - a sense as of the gods gone wandering in England".
The Pickwick Papers was serialised in 1836 and was very successful.
Dickens followed up this first novel with Oliver Twist and Nicholas Nickelby.
Today there have been celebrations marking the 200th anniversary of his birth which were led by the Prince of Wales and the Duchess of Cornwall.
Prince Charles laid a wreath at the author's grave in Poets' Corner as part of a service at Westminster Abbey.
The Royal couple also visited the Charles Dickens Museum in London and a service took place in Portsmouth where Dickens was born.