Author Toby Harnden withdraws from Smithwick tribunal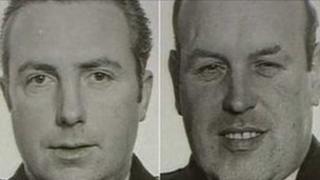 The journalist and author Toby Harnden has withdrawn from giving evidence to the Smithwick Tribunal.
The tribunal is investigating alleged Garda collusion in the murders of RUC officers Harry Breen and Bob Buchanan in south Armagh in March 1989.
Mr Harnden's book Bandit Country publicised allegations of collusion between the Garda and the IRA.
Mr Harnden withdrew from his scheduled appearance after discussions with his new employers Associated Newspapers.
He was due to give evidence on Wednesday.
The legal representative for one of the gardai alleged to have colluded with the IRA described the development as "a matter of extreme concern".
Jim O'Callaghan said the reason the tribunal had been established was because of the allegations contained in Mr Harnden's book.
The tribunal is investigating suggestions that a Garda mole leaked information to the IRA leading to the murders of the two senior RUC officers in a border ambush.
Mr O'Callaghan said that although there had been speculation of collusion following the murders, Mr Harnden's book had given the story "legs", and that he was anxious to cross-examine the journalist.
Should Mr Harnden fail to appear it would unbalance the tribunal in its adjudication, he said.
Tribunal chairman Peter Smithwick did not comment, beyond saying he hoped Mr Harnden would be able to give evidence at a later date and the tribunal would talk to the solicitors at Associated Newspapers to facilitate the journalist's attendance.