'Tesco tax' on large NI retailers from April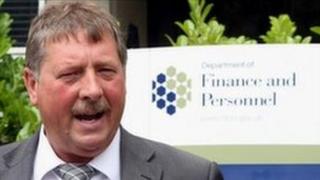 A levy on large stores in Northern Ireland will come into effect from 1 April, after it passed its final stage in the assembly.
The so-called "Tesco tax" has been fiercely opposed by large retailers who said it could limit investment and cost jobs.
On Tuesday, Finance Minister Sammy Wilson said some of the measures would fund additional help for small businesses, and encourage the use of long term empty premises on the high street.
He said: "The support of the executive and assembly for the introduction of this bill demonstrates a clear commitment from government to its responsibility to help stimulate the economy and to assist in any way possible to get Northern Ireland on the road to recovery."
Mr Wilson said the bill - which has yet to receive Royal Assent - would allow business ratepayers to brighten up shop windows with non-commercial window displays, without incurring full occupied rates.
It also provides for a one year concession, during 2012/13, that will effectively allow 50% empty-property relief to continue for a year.
In December, it emerged that, on average, big retailers will pay an extra charge of £66,000 a year. That would raise £5m which would be used to fund a rate cut for small shops.
The levy will be at a rate of 15%, not 20% as originally planned.
It will affect 76 large shops.
Under the plans, a shop the size of the Belfast Ikea store could pay an extra £250,000 a year in rates.
Businesses with more than three branches will not qualify for the rate cut - which means bookmakers' chains and bank branches will be excluded from the lower rates benefit.