Northern Ireland fuel prices highest in the UK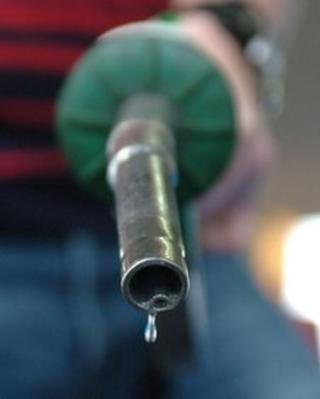 Northern Ireland motorists are facing higher fuel prices than any other region of the UK , according to the Consumer Council.
It also warned of higher prices to come.
Figures from the AA show that in January the average price of unleaded petrol was 134.6p a litre in Northern Ireland, compared with an average UK figure of 133.5p.
Diesel prices are also higher in Northern Ireland.
The average forecourt price was 142.8p per litre, compared with an average UK price of 141.9p.
But at around a penny a litre in January, the price variation with other UK regions was small compared with the gap in fuel prices between Northern Ireland and the Republic.
In January petrol was 5p cheaper south of the border while diesel was 15p lower.
Supporting calls for an EU investigation into the price of fuel, the Consumer Council pointed out that motorists in Northern Ireland still face a 3p a litre increase which the government planned to introduce last month, but agreed to delay until August.
Calling for greater transparency on fuel costs, the Consumer Council has urged the major supermarkets to end regional pricing, which it claims can add up to 6p a litre to the cost of fuel in some areas.
The Consumer Council has written to the chancellor to ask what the government can do to help consumers affected by high fuel prices.