Cork plane crash report notes engine sensor fault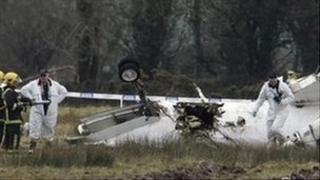 It has emerged that there were problems with one of the two engines on the passenger plane which crashed in Cork in February 2011.
Ireland's Air Accident Investigation Unit (AAIU) has released an interim report on the crash.
Six people died when the plane being used by Manx2 crashed on approach to Cork airport after flying from Belfast.
The AAIUI have said they cannot yet issue a final report on what caused the crash.
The interim report gives more detail on the operation of the plane's engines. The aircraft was a 19-year-old Fairchild Metroliner.
It says that no pre-accident defects were identified in the plane's engines.
However, the report notes that: "There was a mismatch between the torques being delivered by the two engines."
The torque delivered by the number two engine on the plane exceeded that being delivered by number one engine by up to 5%.
The report also found that a sensor on the plane was faulty, resulting in an incorrect temperature reading for one engine.
"This cold temperature signal resulted in incorrect scheduling of fuel flow to the No. 2 engine," it notes.
The report does not state how relevant the issues with the engine output were to the cause of the crash.
Investigators
The interim report states that the AAIU are currently analysing the flight path of the aircraft to see if it can provide any more clues about the loss of control of the plane.
The investigation team are also examining the regulatory oversight of the airline Flightline BCN and the company which supplied the aircraft.
The interim report also reveals that the AAIU has sought assistance from air safety investigators in the UK and the United States in investigating the crash.
In a statement, Manx2 welcomed the interim report.
"This is a very thorough investigation, and with a number of technical and regulatory aspects still being explored, the AAIU continues to have our fullest support and co-operation," they said.
A preliminary report in March 2011 found no faults with the aircraft or the airport landing systems.
It found that the plane's right wing-tip made contact with the runway on its final approach to the airport.