Northern Ireland town plan regeneration invite for Mary Portas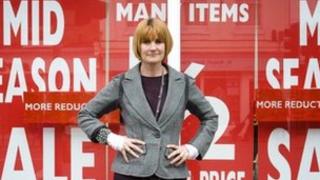 Retail expert Mary Portas will be invited to Northern Ireland to advise on the content of an action plan to regenerate the country's town centres.
Social Development Minister Nelson McCausland said he was taking a number of steps having considered the Portas review of UK High Streets.
He said the focus "should be on putting the heart back into the centre of our High Streets, re-imagined as exciting social hubs for shopping, learning and socialising".
Mr McCausland said his department would be setting up a taskforce of senior officials to respond to the "difficult trading challenges facing Northern Ireland's High Streets".
He said he would meet with other ministers as well as business and local government representatives to develop a Northern Ireland Executive action plan.
Mr McCausland said he would invite Mary Portas to Northern Ireland to advise on the content of the action plan.
He added that a report and action plan would be presented "to the NI Executive by April 2012 for endorsement".
Mr McCausland said: "My department already has an extensive programme of public realm works across the towns and cities of Northern Ireland.
"This has greatly improved the environment for local people, attracting shoppers and potential investors.
"A case in point is Newcastle, County Down, where footfall in the town has increased dramatically following the completion of the public realm works there.
"I am keen to explore lessons from the Portas review to ensure we are doing all we can here to maximise the potential of our own town centres as vibrant places for people to live, work and play."
The Portas review made a number of recommendations including improving the management of High Streets with new "town teams", affordable town centre car parking and disincentives for landlords who leave shops empty.