Muscular dystrophy care in Northern Ireland is sporadic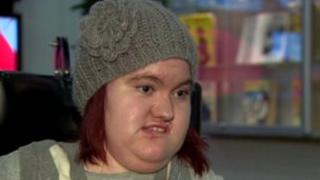 A major inquiry at Stormont later will hear that care for muscular dystrophy patients in Northern Ireland is 'sporadic' and needs to be addressed.
Northern Ireland is also the only country in the UK without an expert health care worker in place.
About 2,000 people live with muscular dystrophy in Northern Ireland.
Michaela Hollywood, who suffers from the condition, said people need more efficient care.
"We need a muscular centre or network so we can be treated better," she said.
"It will give us better health, a better life span and a better quality of life.
"Not only that, but it will save a bit of money along the way."