Black Santa proceeds distributed at St Anne's Cathedral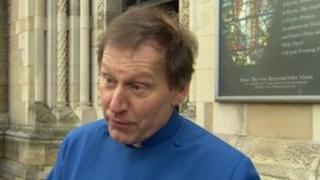 The proceeds of last year's Black Santa sit out were distributed to charity at a special service at St Anne's Cathedral on Sunday.
More than £185,000 was raised during the week long campaign by the Dean of Belfast, Rev John Mann.
Most of the money donated will stay in Northern Ireland, and a proportion goes overseas.
More charities than ever before applied for funding this year, a sign, the Dean believes of hard economic times.
"There are many money charities now applying for funding," he said.
"The emphasis at the services turns to the 200 charities receiving the money and it goes to a variety of places.
"We didn't quite get the amount of money we had hoped to raise, but its a very large sum of money."