Major planning disputes to be reviewed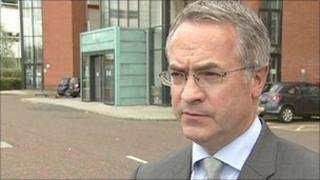 Some of Northern Ireland's longest running planning disputes could be settled within the next few weeks.
The Environment Minister Alex Attwood has told the BBC programme, Sunday Politics, that he is trying to speed up the planning process.
Currently over 50 major projects fall under article 31, the type most likely to be controversial.
Mr Attwood said he intends to make final decisions on at least 25 of these before the summer.
Some of the projects that come under article 31 include proposals for a golf resort at Runkerry, near the Giant's Causeway, the John Lewis store at Sprucefield and the electricity interconnector at Moy and the incinerator plant at Glenavy.
There is also a large number of applications for retail developments, including at least seven in Londonderry.
Mr Attwood's ruling on the Runkerry golf resort is due within days.
He is also about to appoint a public examiner from outside Northern Ireland to assess levels of aircraft noise at Belfast City Airport. A report on the issue is expected by June.
You can hear more on that story on The Sunday Politics on BBC1 Northern Ireland at 11:00 GMT.